Trusted & Quality Office Furniture in Ocean Springs, MS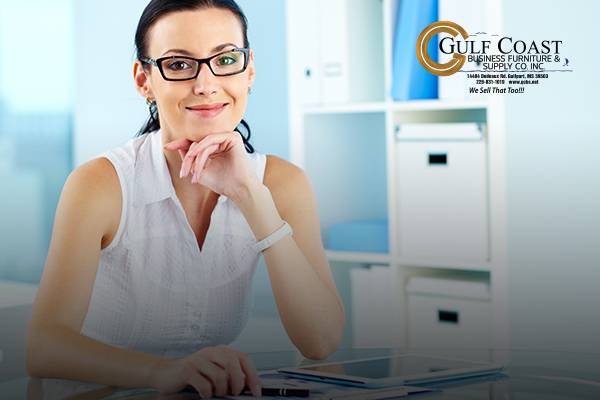 Looking for the perfect furniture for your office can be an exhausting experience. However, you can lessen the stress by visiting reliable stores where you can purchase everything you need. Just make sure to visualize first what you want and list down all you're planning to buy to give you an overview of what you want. 
So, if you're a company trying to find the best office furniture in Ocean Springs, MS, Gulf Coast Business Supply offers various business furniture for your needs. We also have the most hospitable staff to cater to your questions and guide you while shopping. 
Top Qualities to Look for in Office Furniture
Before purchasing anything, it's essential to set standards for the item you're planning to buy to ensure you're getting the worth of your every buck. That's why to help you, we've compiled the top qualities you should note when finding the office furniture for you.
Comfortability
The first thing you need to look for in office furniture, especially in chairs – is its comfortability. Ensure the furniture you're eyeing is excellent for employees to use as it will help them work more efficiently and better than having to make adjustments they're using. 
Besides helping employees work efficiently, having a comfortable chair also improves posture, contributing to your workers' well-being and health. This fact tells us giving comfort through office furniture can yield more productivity and happiness to every officemate.
Functionality
Sometimes we tend to be drawn to eccentric designs and styles, yet it can be a massive mistake because fancy furniture doesn't always mean they're functional. So, before purchasing any of your office furniture in Ocean Springs, MS – make sure to buy something useful over its aesthetics. 
For example, when choosing a suitable desk for your office, check first if it has drawers or none. It's because having desks with drawers is advantageous for working areas with limited spaces. You can also save more money because you won't have to buy other furniture to keep your files and desk supplies organized. 
Portability and Compactibility
Lastly, portability also counts in choosing office furniture because it makes everything easier to move around, especially when rearranging furniture pieces. Besides its lightweight and functional design, you can save more space with compact furniture because it's easier to store and keep when not needed.
Take file cabinets on wheels as an example. If you decide to buy one, you can save a lot of time and effort because you won't have to carry the whole cabinet's weight when transferring it from one place to another. Also, foldable coffee tables are spectacular for anyone who wants to store and move a table quickly.
Buy the Best Office Furniture in Ocean Springs, MS From Gulf Coast Business Supply
When you need the best office furniture in Ocean Springs, MS, make sure to remember these top qualities every piece of furniture should have. Always consider its comfortability, functionality, and portability to guarantee you'll be satisfied with your purchase.
With Gulf Coast Business Supply, you have nothing to worry about because all our office furniture is high-standard and quality. Call us today at 228-831-1019 to learn more about our products.